Welcome to

barn house

physiotherapy

Physiotherapy delivers a vast array of treatment techniques which help to restore and improve body movements and functions.

Psychological health is enhanced by physical wellbeing and at barn house physiotherapy the treatment is as individual as you are.
Women's health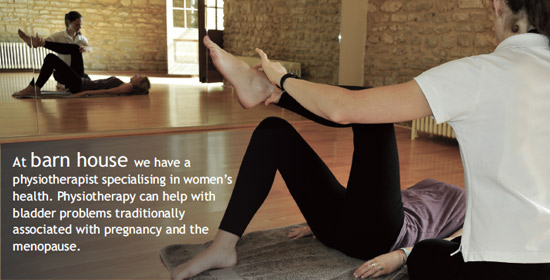 At barn house we have a physiotherapist specialising in women's health. Physiotherapy can help with bladder problems traditionally associated with pregnancy and the menopause.
Many causes of bladder incontinence can be resolved by simple pelvic floor exercises prescribed by a women's health physiotherapist.
Being active during your pregnancy can also reduce the physical discomforts of backache, constipation, fatigue, and swelling. It can improve your mood and self-image and can even help you sleep better.
Because exercise promotes muscle tone, strength, and endurance, it can help you carry the weight that you gain during pregnancy, prepare you for the physical stress of labour, and make it easier to get back into shape after the baby is born.
Here at barn house we can design a gentle exercise programme to target the deep muscles that support your through pregnancy and then after the baby is born get you back to full fitness.
Midwives and physios unite to prevent pregnancy-related incontinence
Most women who develop continence problems after childbirth do not seek help from a health professional, and many are too embarrassed to tell anyone.
Take a look at this video to understand more about pregnancy related incontinence. We have a consulting homen's health physiotherapist Jo Golightly B.Physiotherapy, MCSP. Call: 07846 554 100 to make a booking.

Pilates Pregnancy Guide
A unique programme packed with good advice on how to keep you healthy and toned throughout your pregnancy.
more >