Welcome to

barn house

physiotherapy

Physiotherapy delivers a vast array of treatment techniques which help to restore and improve body movements and functions.

Psychological health is enhanced by physical wellbeing and at barn house physiotherapy the treatment is as individual as you are.
Clinical Pilates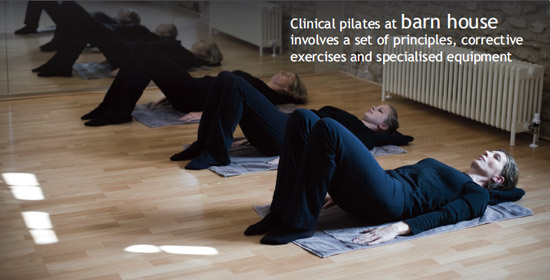 Pilates was originally designed by Joseph Pilates to target the deeper muscles that literally 'hold us in place'. Clinical pilates is an individual tailored treatment method used in conjunction with physiotherapy treatment. It is different from general pilates or fitness pilates. At barn house it is taught by physiotherapists in small groups of 6. Clinical pilates targets the clinical problem of the patient, making it very individual to your needs.
Prior to doing clinical pilates you need a one hour screening to identify the cause of the injury not just the injury itself. In this initial session you will also be taught the pre-pilates exercises for the class and establish a personal program of strengthening and stretching tailored to meet your needs.
Clinical pilates emphasises the 'core stablity' aspect of strength which helps to target the deeper muscles which support the spine. The eight principles of pilates are :
Breathing
Centering
Alignment
Co-ordination
Flowing
Stamina
Concentration
Relaxation
How can pilates help me?
It can reduce pain and safely manage your injury. It can correct underlying poor bio-mechanics. It can train muscle groups to help your body work more efficiently and increase strength for support. It can result in an overall feeling of wellbeing with improved posture, balance and motor control. It can help to reduce stress and anxiety by learning efficient breathing and relaxation techniques. Clinical pilates is ideal for rehabilitation, preventing further injury and for general health and well being.
By working 1:1 you get to isolate the weaker areas of the body and thus the session is tailored to your individual needs.