Welcome to

barn house

physiotherapy

Physiotherapy delivers a vast array of treatment techniques which help to restore and improve body movements and functions.

Psychological health is enhanced by physical wellbeing and at barn house physiotherapy the treatment is as individual as you are.
Machine work pilates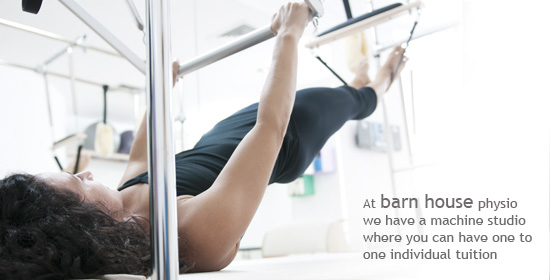 Machine work pilates encourages strength and control by using springs and pulleys for resistance.
This can be achieved using the reformer, trapeze table and barrel. At barn house physio we have a machine studio where you can have one to one individual tuition taught by a physiotherapist. It is totally specific to your needs whether that be strengthening or stretching. The machines can either be set up to mobilise and move the body if you are stiff or strengthen and support the body through resistance if you are weak.
The sessions can be either 30 minutes or 60 minutes long. Please come prepared in clothes that allow you to move.
If you are doing regular classes from time to time an individual session on the machines will help you to appreciate other aspects of pilates.