Welcome to

barn house

physiotherapy

Physiotherapy delivers a vast array of treatment techniques which help to restore and improve body movements and functions.

Psychological health is enhanced by physical wellbeing and at barn house physiotherapy the treatment is as individual as you are.
barn house products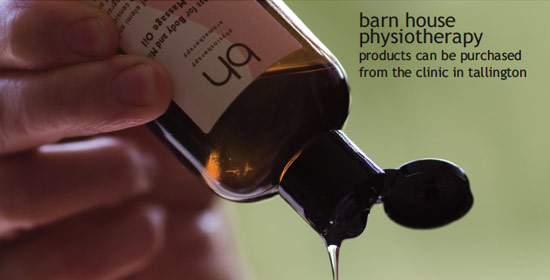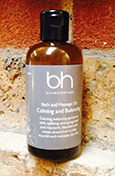 Calming and balancing bath and massage oil

A fusion of pure essential oils blended with sweet almond oil to help nourish and revitalise the skin. Calming and balancing geranium with uplifting energy giving basil and mandarin

Directions for use: Add 3-4 capfuls to running water for a relaxing bath or apply to the skin and massage gently. Avoid the eyes and sensitive parts of the body. if you think you are pregnant seek professional advice before using
£10.00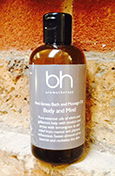 Anti-stress for body and mind bath and massage oil

Pure essential oils of elemi and galbanum help with tension and stress with lemongrass to aid relief from mental and physical exhaustion. Sweet almond oil to nourish and revitalise the skin

Directions for use: Add 3-4 capfuls to running water for a relaxing bath or apply to the skin and massage gently. Avoid the eyes and sensitive parts of the body. if you think you are pregnant seek professional advice before using
£10.00

Body control pilates manual
This is the complete colour , illustrated guide to total well being the Body Control Pilates way.
Initially you will master the fundamental eight principles of Pilates and then, whether beginner, intermediate or advanced, you will be able to go on to devise Pilates prescriptions for your specific needs.
Illustrated throughout, with every exercise explained step by step, this is the ultimate Pilates mind-body workout.

Based on the internationally renowned Body Control Pilates system, the guide is a unique programme packed with good advice on how to keep you healthy and toned throughout your pregnancy.
Pilates, with its emphasis on core stability and safety, is the perfect exercise for the mother-to-be The Pilates Pregnancy Guide will enable you to look and feel your best before, during and after your pregnancy. Relax, safe in the knowledge that you have chosen the best possible exercise programme for you and your baby.

Garden your way to health and fitness
This one-stop guide will equip you to garden in a healthier way, whether you want to optimise your fitness, avoid injury, or simply enhance the sense of wellbeing you derive from your garden.
Pilates principles are at the heart of the step by step sequences that illustrate the safe way to carry out everyday tasks in the garden and Bunny Guinness, a local garden designer, imparts a wealth of tactics for making the garden work in harmony with your lifestyle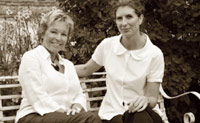 bh aromatherapy oils
Lesley introduced Jacqueline to the art of essential oils that were designed specifically for individual needs. With this in mind and a mutual interest in complementary healthcare they decided to produce a range of essential oils for barn house.
They both believe that the way forward for complementary products must encompass not only how the product is sourced, blended and checked but the environmentally friendly nature of the packaging in this 'throw away society'.
The containers needed to be simple , re-usable yet aesthetically pleasing.
The blending and testing of the product, both the legislative element and feedback, took many years but in the end we hope that the commitment and belief in the range will encourage and inspire users.


Lesley Addison was born and raised in the countryside of Lincolnshire and has always had a keen interest in nature. She started growing herbs in her teens and persuaded family and friends to try various lotions and potions! After having children she studied to get a recognised professional qualification and became a full member of the international Federation of Aromatherapists.


---
Aromatherapy
Our range of bath and massage oils, body lotions and scrubs has been carefully designed to be as natural as possible. Our main concerns have been to make our products paraben free and our packaging as environmentally friendly as possible.
We have created our products with particular attention to combining oils which give a range of benefits, thereby enabling you to select one which is appropriate for you.

Elemi & Galbanum : help relieve tension and stress and can be beneficial in cases of inflammation, infection and swelling.
Lemongrass: aids recovery from mental and physical exhaustion and helps with the elimination of lactic acid.
Geranium: is calming and balancing and aids blood flow.
Basil and Mandarin: are uplifting, energising and can lessen stretch marks and scarring.
Juniper, grapefruit and lime: are stimulating oils which can be used as aids to toning and detoxifying. They work to nourish tissue cells and sustain the immune system. Sea salts, seaweed and sweet almond oil help nourish and revitalise the skin.
Carefully combined these oils can have many benefits to ensure continuing care of the body and mind in between treatments and in their use thereafter.