Welcome to

barn house

physiotherapy

Physiotherapy delivers a vast array of treatment techniques which help to restore and improve body movements and functions.

Psychological health is enhanced by physical wellbeing and at barn house physiotherapy the treatment is as individual as you are.
Physiotherapy treatments
STRENGTH • MOBILITY • STABILITY • POSTURE • ALIGNMENT • REHABILITATION • MANIPULATION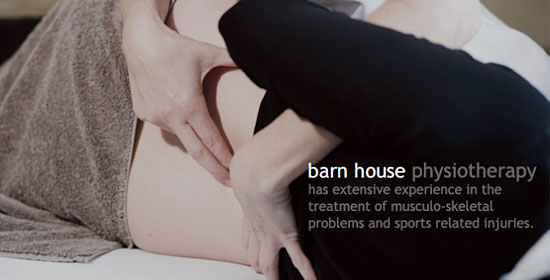 All barn house physiotherapists are Members of the Chartered Society of Physiotherapists (MCSP) and are registered with the Health Professionals Council (HPC). They have extensive experience in the treatment of musculo-skeletal problems and sports related injuries.
Our physiotherapists offer you their expertise in manual therapy, electrotherapy, clinical pilates, massage and rehabilitation exercise to treat problems such as:
ARTHRITIS
NECK RELATED HEADACHE
BACK PAIN
SCIATICA
SHOULDER PAIN
LOCKED JOINTS
BACK PAIN DURING PREGNANCY
WHIPLASH INJURIES
NECK PAIN
PAIN & STIFFNESS POST FRACTURE
PAIN & STIFFNESS POST ORTHOPAEDIC SURGERY
SOME TYPES OF INCONTINENCE
ACUPUNCTURE

Your first appointment will involve an assessment in order to diagnose the problem & identify the cause. Your physiotherapist will look at any scans / Xrays, if relevant, and take a full history.
Treatment Plan
Your initial treatment will include 'hands on ' physiotherapy normally in the form of manual therapy. It may also involve some electrotherapy to help alleviate pain and swelling. Follow up treatments will involve setting short and long term goals to ensure that they are central to your treatment plan and to help you progress.
Progression of treatment may involve rehabilitation and a maintenance programme to help prevent re-occurrence Once you enter into the rehabilitation phase of the programme the focus will shift to moving normally and getting strong. This might be in the form of a home exercise programme, clinical pilates or off to the gym.