Welcome to

barn house

physiotherapy

Physiotherapy delivers a vast array of treatment techniques which help to restore and improve body movements and functions.

Psychological health is enhanced by physical wellbeing and at barn house physiotherapy the treatment is as individual as you are.
Sports physio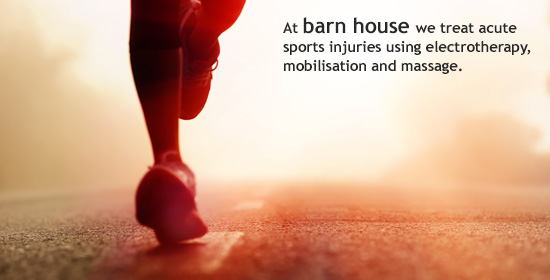 We treat acute sports injuries at barn house using electrotherapy, mobilisation and massage. When we do the initial assessment we also look to see if there are any underlying weaknesses that could have caused the injury or at least contributed to it.
Prevention of re-occurrence is key and we help you to strengthen weakened areas and stretch tight muscles so that your body is balanced and thus less likely to be injured again.
We aim to get you back to full fitness and strength and in most cases in better condition than when the injury occurred.
At bh we believe that patients need to actively participate in their rehabilitation programme. People need proper medical guidance regarding their fitness programmes and we provide a service with a physiotherapist to have 1:1 training. We can work on your individual requirements, whether that be strength, fitness, flexibility or a more mindful approach to your mind and body. The treatment is as individual as you are.