Welcome to
barn house

physiotherapy

Physiotherapy delivers a vast array of treatment techniques which help to restore and improve body movements and functions.

Psychological health is enhanced by physical wellbeing and at barn house physiotherapy the treatment is as individual as you are.
Welcome to barn house physiotherapy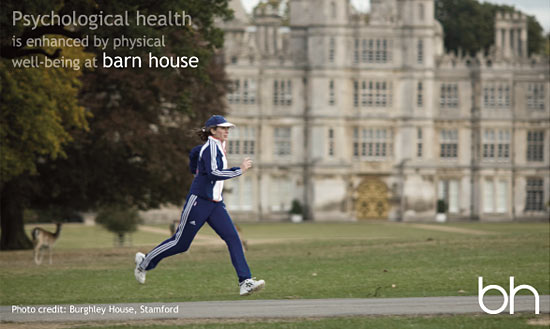 Jacqueline Knox, founder of barn house physiotherapy

Jacqueline Knox qualified as a physiotherapist in 1988 and during that time became increasingly aware of the important role that the natural enviroment plays in our health. Working in hospitals in London and Australia she began to appreciate how the immediate enviroment affects the psychological well being of patients and this is one of the reasons that she chose to set up barn house physiotherapy in Tallington.

Established in 1996 the clinic now offers a wide range of experience in manual therapy, woman's health, sports physiotherapy, post surgery rehabilitation, gym rehabilitation and clinical pilates.

Click here to meet the rest of our team.



bh products
bh oils are designed for the clinic by aromatherapist Lady Lesley Addison using only natural ingredients
more >

---
bh blog - Gardeners Question Time Radio 4
BBC Radio 4 Gardener's Question Time : Exercise This accompanies an interview for Gardeners Question Time
more >
---
How barn house can help you
Sports injuries and other conditions such as:
ARTHRITIS
NECK RELATED HEADACHE
BACK PAIN
SCIATICA
SHOULDER PAIN
LOCKED JOINTS
BACK PAIN DURING PREGNANCY
WHIPLASH INJURIES
NECK PAIN
PAIN & STIFFNESS POST FRACTURE
PAIN & STIFFNESS POST ORTHOPAEDIC SURGERY
SOME TYPES OF INCONTINENCE
can be treated by physiotherapy...
more >